Cougar Simone Sonay
blindfolded, bent over a box,
pounding ANAL with 10 inch
BBC, sucks and fucks! | Simone Sonay
Jul 22, 2014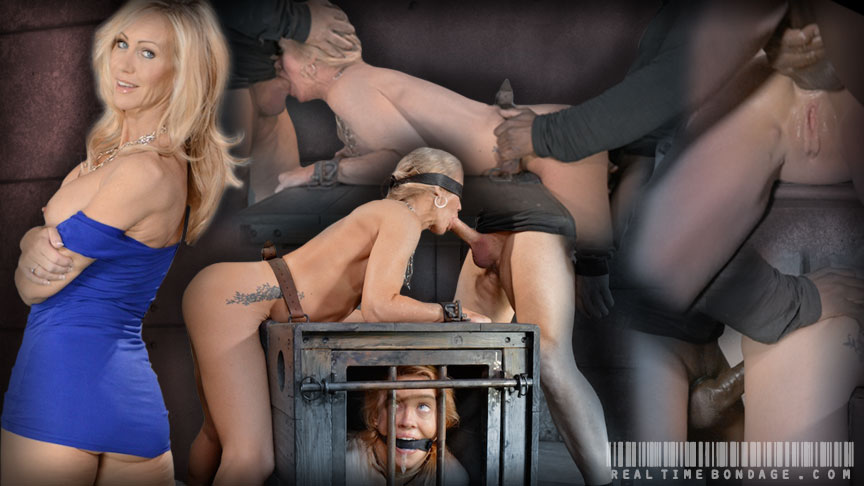 In the conclusion of Simone Sonay's live BaRS show, this stunning blonde MILF finally gets the assfucking she so richly deserves. We have been building up the pace to the frenzied conclusion, in which Simone's flawless ass runs into Jack Hammer's 10 inch dick. Repeatedly.

Taming cougars is a tag team business, and we start of with shackling this slut over a cage. This position leaves both ends wide open and ready for access. The finishing touch is our back up bitch Darling waiting her turn in the cage. Darling gets to listen to every moan and gasp over her head as Simone gets her ass throughly plowed, knowing that it is her turn next. A blindfold cuts off Simone's vision, she can not see or anticipate the dick, all she can do it experience the sensations as her holes are used fast and hard.

Simone is already dazed and loopy from the painful suspension and deepthroat she has gone through, now it is time to seal the deal on this tanned swinger. Two rock hard cocks step up and make full use of Simone's wide open holes. We rip off her blindfold so that we can see those big blue eyes looking up at us past a mouthful of fuckstuck. The glazed look on her face shows just how appreciative she is for her serving of dick. All 10 inches of BBC slide home home in her ass balls deep as Simone responds with an earth shattering orgasm. One after another the cocks own her ass.

We dick her down until she is a limp puddle of flesh strewn over the cage, held up only by her shackles. She has had so many squirting orgasms she can no longer see straight. Drool and lube and cum leak out of every hole. Darling cowers in her cage, knowing she will be hauled out and used next. We are all done with the cougar, bring us the next fucktoy...
MILF Simone Sonay does epic
deepthroat on BBC, is
assfucked and vibrated,
suspended in brutal hogtie | Simone Sonay
Jul 15, 2014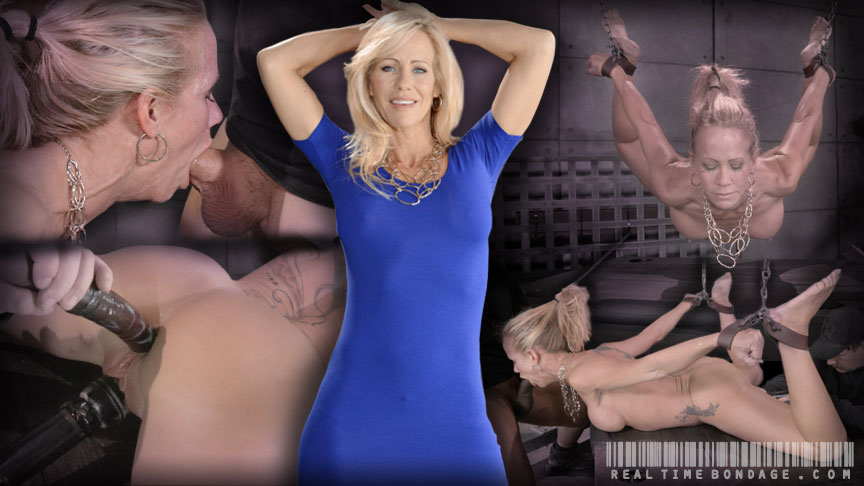 Sexy MILF Simone Sonay's live show continues in the 3rd part of her Sexuallybroken shoot. We are only at the halfway mark and our beautiful cougar is already dazed and cross-eyed. It is a good look on her and only inspires us to pick up the pace. Today we are going to push this blonde swinger to her very limits via bondage and 3 hole training.

As a gagged and bound Darling watches and drools in the corner, Simone is placed belly down ass up on the caged fuckbox. Her wrists and ankles are shackled and chained, cranking her up into a strict hogtie. The box places her at the perfect height for easy assess to both ends and displays Simone's stunning bubble butt. Time to have some fun as Simone learns the value of multi tasking. Can she conquer the stressful position and the rock hard cock jammed deep into her windpipe to sneak in a few orgasms?

We take full advantage of Simone's exposed mouth hole while vibrating that hard used pussy. She chokes and gags as the hard cock is wedged deep down her face pussy. We won't be content until we have used all three of those holes though, and want to make that multi tasking just a little bit harder. A huge dildo is crammed into that flawless ass as the vibrator works its magic. Simone cums hard, over and over, as waves of pleasure wash over her bound body. We are loosening up that ass for the pounding we are about to unleash upon it shortly.

All the while the cocks are owning her throat and Simone is moaning like a whore in heat. Time to make this bitch suffer a little. Cranking her up into a full suspension, the hogtie proves its worth. Simone dangles in mid air as fire shoots through her body. We bring our little voyeur Darling from the corner where she was watching and throw her into the fuck box so she can get a closer look. Next up: anal pounding by BBC. Stay tuned...
Stunning Simone Sonay ziptied
down, brutal blowjobs on BBC,
punishing deepthroat while
vibrated! | Simone Sonay
Jul 8, 2014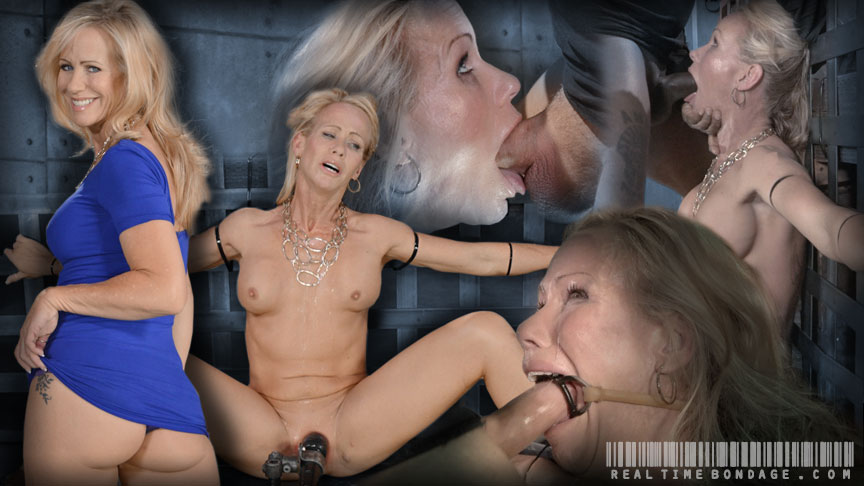 In round two of the live Sexuallybroken show, the relentless punishing pace continues. Simone Sonay has bought the ticket and is taking the ride, and this ride will not end until she is completely destroyed. We have already warmed her up with some fucking, because we are nice like that, but now it is time to do some dedicated reshaping of that slutty little throat meat.

Ziptied down to a metal frame with a vibrator bolted down between her wide spread legs, Simone is completely immobilized. She is about to find out exactly what throatboarding is. The metal frame keeps her head upright and in place, she can not escape or back away from the dick. We are going to drill the dick right into the back of her head, and all the while the vibrator will be ripping orgasm after orgasm out of her voracious pussy. Time to see how well she can multi-task. This is not something Simone will be forgetting anytime soon.

The rock hard cocks run a train on her drooling face pussy. The deep back of the throat spit flows out and down her breasts, running down her taut stomach. Simone is blasted deep into subspace by the relentless dick. She cums hard, over and over, with cock wedged deep in her throat. We never slow down or let her get on top of it. Not satisfied, we stick in a huge ring gag into her mouth so that she can not shut her mouth on us. Now we can slide down all the way, fully unimpeded. It works.

Our dazed MILF is bound, cum out, gagged and both ends of her have been repeatedly plowed and the show is still getting started. We leaving this heaving bag of slut lashed to her frame while we set up the next position. Enjoy the ride my dear, it is only just getting started...
Blonde MILF Simone Sonay
worked over hard by 2 cocks,
epic deepthroat on BBC, brutal
fucking! | Simone Sonay | Dee Williams
Jul 1, 2014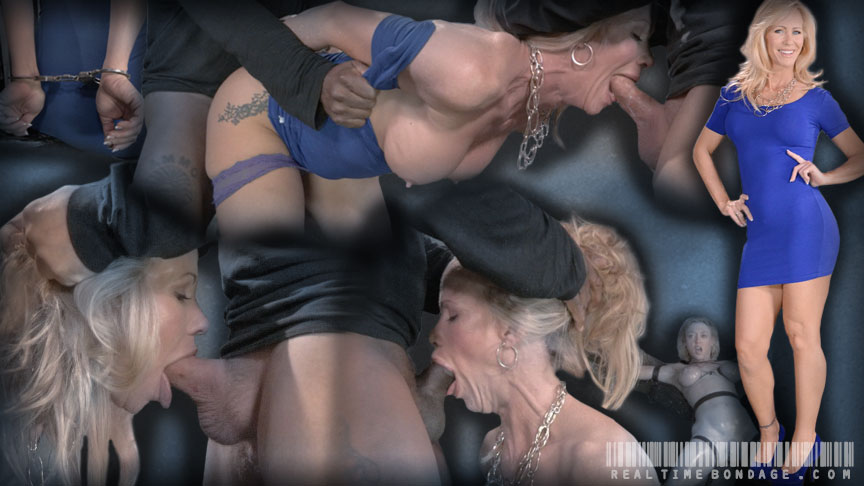 Simone Sonay is the cougar that all over cougars aspire to. Blonde, beautiful and blessed with a raging sex drive that leave most in the dust, Simone is the perfect package. Her out of control sex drive is what got her into the industry in the first place. There was simply no other way for her to access the top self cock she so deeply craves. Lucky for this nympho, top shelf dick is exactly what we dish out. Time to break this cougar down.

The live shows are a frantic, brutal pace that are too much for most. Only the toughest can meet the challenge. Simone is a tough cookie, let's see if we can make her crumble. And just for fun, let's stick a bound, oiled, giant breasted Darling belted down to Gumby in the corner to watch it all go down. We start off with our MILF sitting in a chair in handcuffs. Once her hands are behind her back, we make full use of her well trained mouth. The cock simply walks right up and owns her face, one after another. Simone is in cock slut heaven, but this is just the warm up. We are going to push her to her limits.

Pulling her off the chair and down to her knees, we pick up the pace. The deep throat drool is flowing out and coating her skin tight dress. Her eyes are glazed over and her makeup is already destroyed. 10 inches of BBC drill her face, and then we yank her up and bend her over, slamming the dick home inside her shaved pussy. Simone cums hard all over the dick like the natural born slut that she is. We rag doll fuck her all over the stage, using both ends hard and without mercy as a wide eyed Darling watches it all from the corner.

Simone is dizzy and dazed and we are only just getting started. This is what a warm up is, Sexuallybroken style. We drop our panting cougar down on the stage to set up for the next position. Hold on dear, you are in for the ride of your life...

MILF Tears | Simone Sonay | Matt Williams


May 16, 2014

Simone Sonay is a busty, fit and toned MILF that loves the the dick. She craves it. Too bad for her today is not about the dick. Today is about putting this cougar through the Infernalrestraints experience. It isn't going to be easy for her, Simone is going to earn her orgasms the hard way. Just how bad does she want it?

Bound on a wooden bondage device that keeps her legs spread wide, we cut off her panties to see what we are working with. Simone gets pogoed and vibrated just enough to give her an edge. She will need all she can get for what we are about to put her through. Shifting her into stocks, Simone is completely immobilized. Her hands are stuck in our custom made metal hand cans, her legs are bound by metal pipes. We add a stocking hood and a extra large ring gag. Simone is finally starting to grasp what true bondage is. Nipple clamps and a nose hook reiterate her total helplessness. This swinger is reduced to a play toy for our desires.

Moving our shaken MILF onto a metal frame, we lash her down with leather belts to properly display that body. A big black ballgag is wedged deep inside that huge mouth of hers. After a through coating of baby oil her body is gleaming. Someone this lush must be taken down a peg or two and we introduce her to electricity. Simone is terrified and rightly so. Her fear makes her give up sweet sweet MILF tears. This is much harder then just lying back and getting fucked, which is our slutty cougar's stock in trade. She has suffered so sweetly we must reward her a little and we bring in the vibrator for a few well deserved orgasms. Simone is blasted out of her mind, dazed and confused, unable to even recall her own name. We haul this throughly wrecked MILF up on her wire frame, leaving her hanging from the rafters. She sways gently, totally destroyed. We might be back to play with her again later if we feel so inclined...